Hazard Analysis Critical Control Points, or HACCP, is known as an internationally recognized method for detecting and managing food safety problems within a company. When the HACCP is applied correctly, it has the ability to offer customers, the public, and regulatory agencies verification for a food safety program, and determine whether or not the program is well managed.
Controlling Risk
The importance of the HACCP is evident, as it is designed to prioritize and control potentially hazardous conditions in food processing and production. The ability to contain potential food risk is of paramount importance when it comes to preventative measures. Controlling risk means controlling and limiting microbiological, chemical and physical contaminants. Once these threats are suppressed, the company can faithfully assure their customers that the products they are buying are safe.
Is it effective?
Thankfully there is a long list of some of the world's best manufacturers that adhere to the HACCP system as a foundation for food safety. However, a program like HACCP is not a fix-all when it comes to protecting the public from hazardous contaminants. In order for a food safety program to be effective, certain prerequisite programs must be implemented. Some of the programs include pest control, traceability, recall, hygiene and sanitation. These must all be accounted for and implemented properly in order for the HACCP system to offer any kind of assurance to the consumers that depend on the company's products.
FSMA
Another point of relevancy regarding the HACCP is its alignment with the requirements of the Food and Drug Administration's Food Safety Modernization Act of 2008. Though it does not encompass all the requirements spelled out by the FSMA, it is still a good platform in which to build an FSMA-friendly management system.
The 7 steps to Food Safety
The HACCP program conducts itself within the framework of seven principles developed by the National Advisory Committee on Microbiological Criteria for Foods.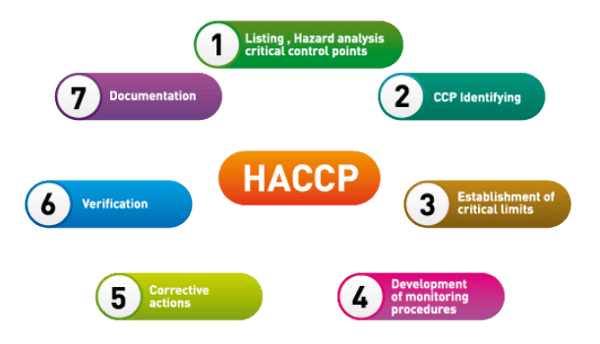 (Taken from haccpalliance.org)
Among the seven principles:
Conduct a hazard analysis to identify potential hazards that could occur in the food production process.
Identify the critical control points (CCPs) -- those points in the process where the potential hazards could occur and can be prevented and/or controlled.
Establish critical limits for preventive measures associated with each CCP. A critical limit is a criterion that must be met for each CCP. Where appropriate, critical limits may reflect relevant FSIS regulations and FDA tolerances.
Establish CCP monitoring requirements to ensure each CCP stays within its limit. Monitoring may require materials or devices to measure or otherwise evaluate the process at CCPs.
Establish corrective actions if monitoring determines a CCP is not within the established limits. In case a problem occurs, corrective actions must be in place to ensure no public health hazard occurs.
Establish effective recordkeeping procedures that document the HACCP system is working properly. Records should document CCP monitoring, verification activities and deviation records.
Establish procedures for verifying that the HACCP system is working properly. Verification procedures may include reviewing the HACCP plan, CCP records, critical limits as well as conducting microbial sampling. Both plant personnel and FSIS inspectors will conduct verification activities.
How to implement?
When attempting to incorporate the standards that the HACCP demands, it is in a company's best interest to keep track of their product with ultimate efficiency and accuracy. A cloud ERP solution can keep processes intact, and help maintain the safe status of the product, and the way that product is grown/manufactured, packed and shipped. iNECTA Food, Seafood and Produce can help businesses comply with HACCP regulations by managing the processes that make the business run while controlling and minimizing hazardous conditions within the workplace.