The FSMA, or the Food Safety Modernization Act is a law backed by the Food and Drug Administration designed to reform the state of U.S. food safety regulations. Considered by some as one of the most significant reforms to food safety law in over 70 years. That is a pretty significant number when you consider the amount of reported cases of foodborne illnesses in a year. Having been put into effect on January 4th, 2011 by President Barack Obama, the law has put necessary emphasis on maintaining standards in food safety across the board.
Prevention
The biggest takeaway from the new set of regulations imposed by the act is the significant emphasis on prevention rather than reacting to an active problem. The issue developed overtime as a result of focusing too much on damage control once an outbreak occurred, rather than implementing the necessary precautions to limit the chance of an outbreak in the first place. Seems pretty logical, but surprisingly this is an entirely new approach to food safety with less than 8 years under its belt.
The FSMA is considered a comprehensive reformation of United States' food safety regulatory framework. The FSMA intends to extend its reach to every facet of food growth and manufacturing. The FDA is throwing down the gauntlet and forcing all members of the industry to take precautionary measures with their products long before they reach a consumer's mouth.
Who Is Affected?
Growers, packers, processors, shippers and importers will now need to abide by the regulations in accordance with the FSMA. This relatively new act has forced the FDA to turn its sights on preventative measures instead of anticipating fallout from a substantial contamination leading to reports of foodborne illnesses. Ultimately, this new approach is demanding that every participant within the industry claim responsibility for their hand in the process. The FDA acknowledges that this practice must be compulsory for it to have any effect.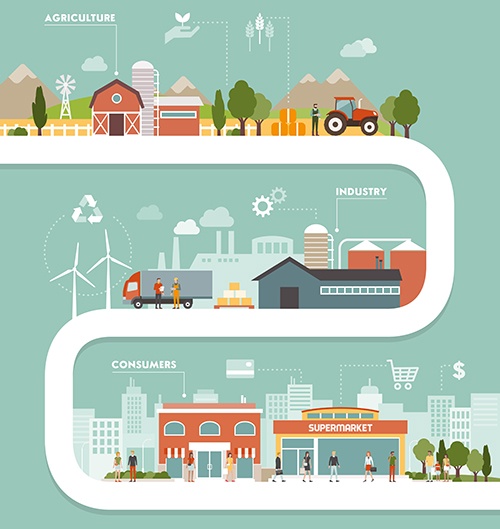 Companies will need to meet these new challenges head-on when learning to comply with the law. Some of the act's main points of emphasis are the preventative controls intended for the importation of foods, comprehensive food safety inspections, the safe transportation of foods and compliance timeframes. Companies may see this as a daunting prospect, but it really depends on whether they have these procedures in place to some, if any degree. Companies are encouraged to do a gap analysis to assess their current standing, and what steps need to be taken to meet the new standards.
There are also some food industry allies who are dedicated to bringing companies up to speed with the new rules and regulations laid forth by the FSMA. There are organizations that work closely with companies to help them transition smoothly to operate in accordance with FDA mandated training on food safety and preventative care.
How to get compliant?
One of the best ways to stay above the curve, and adhere to the FSMA is implementing a top-tier ERP system like iNECTA Food, iNECTA Produce or iNECTA Seafood. With iNECTA, companies can leverage cutting-edge technology from Microsoft to keep track of their product to ensure they are complying with the rules and regulations laid out by the FSMA. iNECTA works with companies to implement an ERP solution that works for them, and is committed to making sure their daily processes are carried out seamlessly. The FSMA may be raising the bar, but an ERP solution that works can help businesses meet newly imposed standards.