When it comes to packers and shippers of produce products, there are several hurdles to jump over in order to run a business successfully. Packers and shippers have the responsibility of taking the finished product received from the source, and preparing it for its journey to the greengrocer or farmers market, etc. No one cherishes the concept of pinpoint accuracy and precision more than produce packers and shippers. If nothing else, you are dealing with a product that is essentially a ticking time-bomb that is set to expire within an estimated time-frame. Combating this basic principle of perishable produce products isn't easy. Having a sub-par ERP system doesn't make things any easier on a produce packer or shipper.
iNECTA Food offers an unparalleled solution, equipped with several features that a packer/shipper requires for success. Disorganization is the death of any good packing/shipping operation. iNECTA Food is armed with the best tools available that are designed to create the perfect formula for a smooth and seamless packing/shipping operation. The iNECTA solution ensures the protection of your product and guarantees that its quality will remain intact throughout the entire packing and/or shipping process. The iNECTA Food solution for produce packers and shippers leaves absolutely nothing to chance, with every bushel in every barrel accounted for.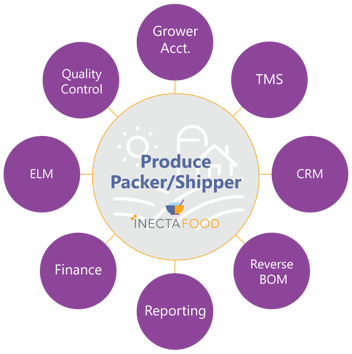 One of the features we mentioned for produce packers and shippers includes Extended Lot Management. One of the biggest challenges iNECTA helps produce packers and shippers with is managing and organizing lots. Lot tracking can be found throughout the iNECTA system, as well as our Extended Lot Management extension. It is an indisputable fact that produce packers and shippers must be able to track lots backwards and forwards from the point of creation of the purchase order and throughout its supply-chain life span until it is delivered to the customer in which the lot was sold.
Another essential feature for packers and shippers that is offered by the iNECTA Food solution is the Mobile Warehouse App. With iNECTA Food, the integrated warehouse management system will have your inventory in perfect standing order throughout the lifespan of the product. In addition, produce packers and shippers can use any Android powered scan-gun to automatically store product information into the iNECTA system. With cutting-edge sorting and accountability, iNECTA Food will keep your product in good standing order until it is shipped out of the warehousing stage and onto the buyer.
We all know that one of the biggest challenges facing packers and shippers is the reverse bill of materials. With iNECTA Food, The Reverse BOM feature allows the user to create a production order that allows one raw material, for example tomatoes, to become many different finished goods; tomatoes 4x4, 4x5, etc. The user is also able to cost share and allocate cost to each finished good.
Those were just a couple of examples of the features that are offered via the iNECTA Food solution for produce packers and shippers. No matter how you slice it, iNECTA Food is the top choice for produce packers and shippers. We know how to face the biggest challenges that are typically thorns in the side of every produce packer and shipper. Whether it is grower settlement, reverse BOM, label printing or catchweight, iNECTA Food has produce packers and shippers covered, acting as the perfect helping hand to keep the entire operation organized. To find out more about how the iNECTA Food solution can help your produce packing or shipping business, please visit our site.