Produce Growers are faced with numerous challenges every sowing and harvesting season. These challenges make it particularly difficult to run a successful business without the help of a top-notch ERP system that can exceed expectations. In our time working with produce growers, we learned that there a few common denominators across the industry that are simply unavoidable. These are issues that all produce growers encounter and must take the time to resolve. To that end, we felt it was important to highlight the challenges produce growers face on a daily basis, and how the iNECTA Food system can help them overcome these challenges operationally speaking.
If you are a produce grower, you know the difficulties involved with preparing for sowing season and ensuring that your crop yields as much product as possible to allow for ideal profitability. There are so many factors in play that determine the success or failure of a crop. iNECTA Food's vertical for produce growers ensures that every facet of your grower/farmer business is handled by the best possible ERP system on the market with premier technology powered by Microsoft.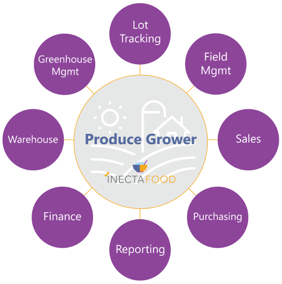 For example, our Field Management feature helps growers with the challenge of accounting for all of their crops at once, throughout the entire growing season. The Field Management feature allows growers and farmers to keep an eagle eye on their crops throughout the entire growth process from the moment the seeds are sowed to when the crop is plucked from the earth and sorted and packed for shipment. In addition, users can track the cost of the crop throughout the growing process. Margins are very small for growers so being able to see the cost that goes into a harvest/grow and analyzing that data is imperative. Keeping track of the progress of your crops is half the battle, and iNECTA Food is in your corner every step of the way.
Another challenge iNECTA helps growers with is managing and organizing lots. Lot tracking can be found throughout the iNECTA system, as well as our Extended Lot Management extension. There's no debate about it, growers must be able to track lots backwards and forwards from the point of creation of the purchase order and throughout its supply-chain life span until it is delivered to the customer in which the lot was sold.
We know that growing healthy crops and getting the most value for them is an exact science. Because of this, the iNECTA Food system leaves nothing to chance, with every last seed accounted for in a one-stop solution that allows growers to access pertinent information pertaining to their crop. In the past, produce growers were subject to loss of profit purely due to disorganization and inaccurate or insufficient data and operational capability. There is nothing more frustrating to produce growers than not being able to maximize output and missing a target after harvesting season. iNECTA Food's main objective is to take your business to new heights with a full suite of features designed for the produce industry specifically.
To find out more about how iNECTA Food can elevate your grower operation, and to read more about the specific produce industry-specific solutions visit our site created for produce growers.