Beverage companies have a lot to worry about when it comes to maintaining an organized and efficient operation. Like many other food companies, beverage companies must adapt within an industry that is in a constant state of evolution. In addition, the beverage industry is inherently fast paced, meaning the margin for error is greater than other industries whose nature allow for a less time-sensitive production and turnaround process. Knowing this, iNECTA developed a version of our phenomenal ERP solution to serve beverage manufacturers specifically, with powerful features that accommodate all possible processes with unmatched precision. Powered by Microsoft, iNECTA Food's solution for beverage companies caters to the particular challenges of operating a successful beverage business. Just about every manufacturer of any kind of liquid beverage knows that customer lifestyles and patterns are getting harder to gage, which makes it harder to anticipate the demand for certain products. In addition, beverage companies must also deal with increasing restrictions, regulations, production costs, inventory management, traceability and lead times. Unfortunately, those were but just a few of the headaches that beverage manufacturers encounter on a daily basis. Luckily, there is a solution that beverage manufacturers can turn to with the aim of offsetting these unyielding challenges and streamline the processes that otherwise hinder productivity and leave businesses behind the eight ball. How is this achieved? With highly sophisticated features that alter the overall efficiency of your entire operation. Everything from product quality control to recipe configuration, iNECTA Food's premier enterprise resource planning solution will have your operation up to code, exceeding expectations and setting your business on the fast track to peak performance, productivity and ultimately, profitability.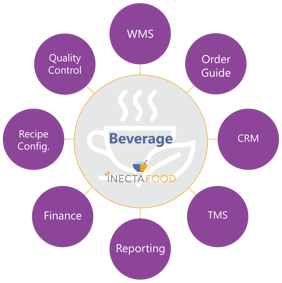 For example, our Quality Control feature is perfect for Maintaining the overall quality and safety of your product. iNECTA Food is committed to food safety throughout the lifespan of your product. With an impeccable ERP solution like iNECTA Food, you can track and account for every single can, glass or bottle, guaranteeing the safety and quality of your product from the factory to your customers' table. Another feature that we're proud to offer with the iNECTA Food solution is our Order Guide granule. With our Order Guide feature, beverage producers can automate and enhance the sales order process by creating a catalog of items most frequently purchased by the costumer or designated items sold to that customer. The order guide also allows the sales associate to upsell the customer by allowing the order guide to suggest items based on past sales of that same customer.
We have to also mention our Recipe Configurator which sets itself apart from competitor tools that serve similar functions. Beverage producers need to be able to create a recipe and produce the finished good before sending it to the customer. Our recipe configurator allows the user to create recipes through R&D and convert them to items with production BOM once the recipe has been vetted and ready for production. The user can manage the recipe and the different versions of it while also tracking the related information. To find out more about how Beverage companies can benefit tremendously from the iNECTA Food solution and read more regarding the features we have tailored specifically for the beverage industry, please visit our main website.