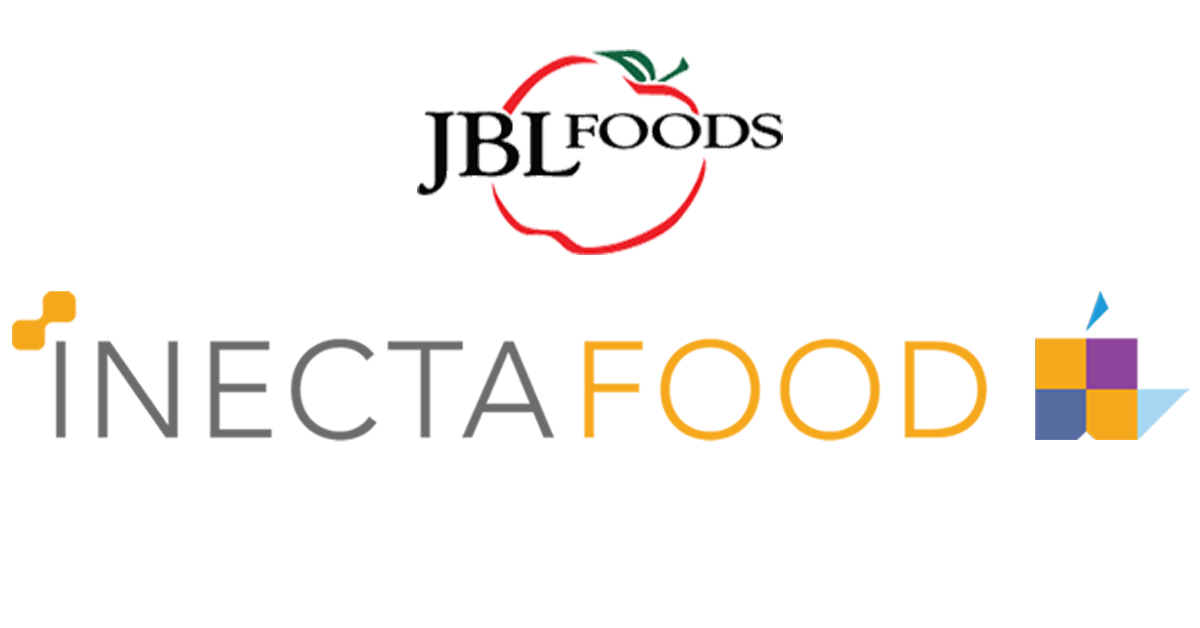 Last month we had the privilege of speaking with one of our valued customers to discuss INECTA Food and how it has made an impact on their business in a positive way. JBL Foods has a particular company ethos, and that is to provide its customers with the best quality produce and the best service available.
Taken from the JBL website, "It is our strong belief that if we work hard to ensure our partners succeed, then we too will be successful. To do this we provide the best products, and the best service, at the greatest value to our customers. We work closely with our suppliers and our customers to increase value wherever possible. This philosophy ultimately allows us to provide the most competitive solution available while still offering excellent service. Our long-standing supplier relationships afford us intimate product knowledge and accessibility. Our customers recognize us for providing great service and a quality product, both at a competitive price. Our extensive experience and contacts in the industrial processed fruit and vegetable market allow us to provide both suppliers and buyers with the market information they need to make the best decisions for their business."
Clearly, JBL Foods is a company that is built on the principle of putting their customers first, in hopes that their overall success will in turn lead to JBL's success. They put in the time necessary to ensure that they deliver the best products at a great price, aiding their customers every step of the way. Because of their long-standing relationships with their suppliers, JBL is able to leverage the knowledge of products in a unique way which in turn gives them greater insight into their operation overall. Their expertise in the processed fruit and vegetable market is unmatched, and they use that expertise to inform suppliers and buyers alike, giving them the knowledge, they need to increase productivity and profitability across the board.
JBL, for all its success, is constantly looking for ways to improve its business overall, and one of the ways they intended to do so was to upgrade its ERP system to fit its size, volume, and daily operations. The first step for JBL was installing Microsoft Dynamics 365 Business Central to give them an injection of the type of process streamlining they were previously lacking. JBL had been searching for the perfect ERP system for quite some time before they enlisted INECTA's help with BC installation.
"Once we discovered INECTA and Business Central, everything fell into place. Prior to that, looking at other systems was painful. There was nothing that even was remotely close enough to be able to do the lot tracking and the management that our business needs until we stumbled across INECTA," JBL commented on their experience with Business Central via INECTA "Anything from processing orders—meaning issuing purchase orders to suppliers, putting sales orders in the system, which mirror purchase orders that we get from our customers, using it to look at doing some analysis of profitability by sale, monitoring inventory. It's pretty integral and we're trying to force ourselves to use it for everything as much as possible."
JBL was working overtime trying to make a combination of Microsoft Excel spreadsheets and QuickBooks work for their purposes but to little avail. They needed a boost, a solution that was capable of handling their sizable operation in order to increase efficiency and ultimately improve productivity. They turned to INECTA for Business Central, and it was the right decision, to say the least. Speaking on why they love Business Central, JBL said "The fact that it is relatively idiot-proof and that it doesn't let you post any transactions that perhaps may have errors or may be problematic if you do post them is amazing. (BC) gives you the confidence level that what's in the system is only as good as what you input. So, it gives you the confidence to know that you have to input it correctly before it even makes it into the system. For that reason, the system has a very high likelihood of being accurate."
Another catalyst for JBL was their desperate need to improve lot traceability. When you are a business that deals largely in dropshipping and warehousing, lot tracking and forward/backward traceability are of paramount importance.
"If you think of our business, we do a combination of drop shipping and also warehousing products, and we can warehouse the same product in multiple locations. So, if you look at having lot and unit traceability throughout the piece of the supply chain that we manage, trying to do that via spreadsheet as the volumes were increasing became more and more problematic."
It is obvious that JBL needed a solution that came with sufficient lot tracing capability. Not only because of the sheer volume JBL deals with, but also because of their customers' demand for accuracy on every order. Speaking on the importance of accuracy for their business, "…accuracy is the most important. And then anything that we can do to be able to maintain that accuracy while improving efficiency is obviously well worthwhile. But the overriding factor is we have to be accurate. We can't be wrong. Our customers don't accept that."
Their commitment to accuracy is the main pillar upon which their entire operation rests. JBL went into further detail about how accuracy is absolutely crucial for their business. "For our purposes, the customer will place a purchase order against a specification, and they'll tell us what price they're willing to pay and what time or date they want to receive that product. It's up to us to work with the supplier to make sure that A, that specification has been met, B, it's going to be there on time, and C, we can do it at the correct price. If any of those things fall over or are not done accurately, our customers aren't very forgiving."
INECTA was thrilled to implement software that would assist JBL in their commitment to accuracy and efficiency with Business Central and the INECTA Food solution. They are still learning the ins and outs of the system but are learning at a rapid rate. JBL has been reaping the benefits of having implemented a stellar ERP system capable of handling their load, giving them the freedom to focus on other pressing matters regarding their business. INECTA would like to send a special thank you to Jason Bellingham of JBL Foods for lending his time and offering us his valuable insight.
For all of your processed fruit and vegetable needs please visit jblfoods.com