We know better than most that food manufacturers have a lot on their minds. With everything from regulatory compliances, meeting demand, and maintaining quality to worry about, how can food professionals possibly do their proper due diligence in choosing the perfect ERP solution? We at iNECTA know that this isn't always the easiest decision. After all, not everyone knows or fully understands the immediate benefits of integrating with a capable food ERP solution without a considerable amount of research. That's why we've decided to do the legwork for you.
For food manufacturers especially, COO's and CFO's must think long and hard about what ERP solution to choose from an operational and a financial standpoint. Getting what you need in an ERP for a reasonable rate, in the long run, is the name of the game. We thought this would be a perfect opportunity to prove to all food professionals how and why iNECTA's Food ERP solution powered by Microsoft is the indisputable ideal choice for your food business. How did we determine this was the utmost confidence? We talked to our current food customers and asked them what they were looking for most in a food ERP system during their search.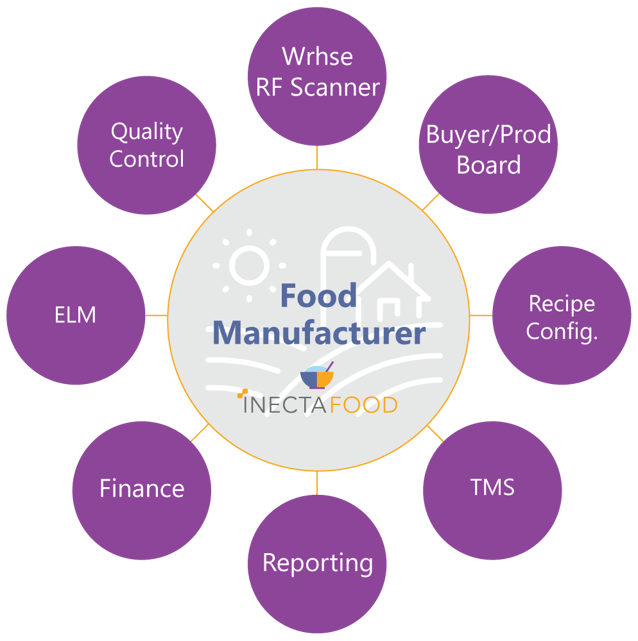 First and foremost. Let's get into the nitty-gritty about what makes iNECTA Food the logical choice over any other food ERP on the market.
Powered by Microsoft Dynamics 365
We are powered by the most cutting-edge and advanced technology provided by Microsoft, as our solution is based on the Microsoft Dynamics 365 Business Central platform.
Food Manufacturing is Just the Tip of the Iceberg
Food Manufacturing is merely scratching the surface of our solution's capabilities. So many of our current and prospective customers mention that they have/had a hard time finding an ERP solution that can handle more than just food manufacturing. For example, produce and seafood companies require more than just food manufacturing capabilities and food manufacturing features. We set ourselves apart from competitors by offering services specific to those industries such as warehousing, reverse bill of materials, transportation management, accounting services, and supply chain management. We are not a "one-size-fits-all" solution. Our solution is designed to cater to every food sector's individual needs.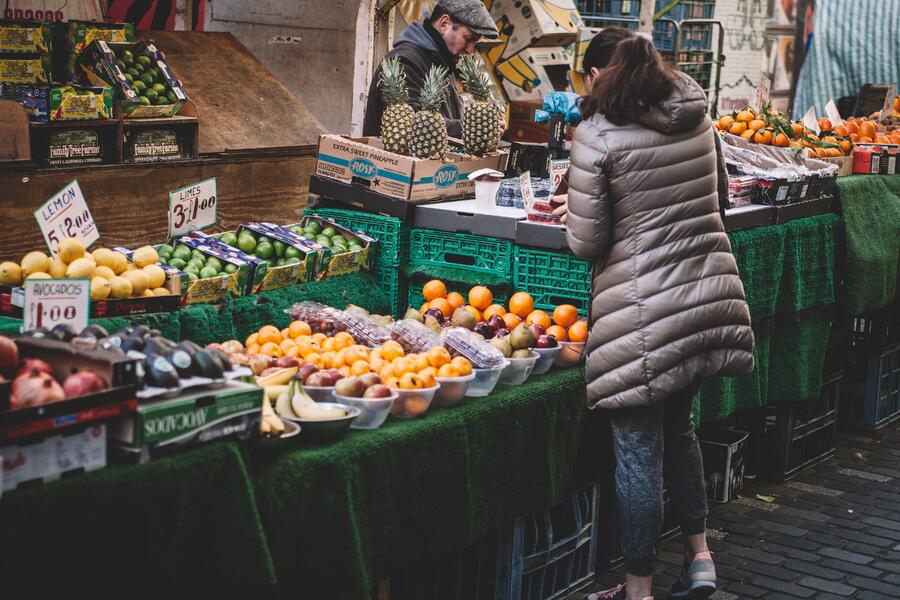 The Know-How
iNECTA is composed of highly experienced and dedicated ERP specialists and consultants who know exactly what your business needs and the right approach regarding a seamless implementation.
Customization
The iNECTA Food solution prides itself on being able to mold itself to your business's needs. iNECTA understands that there aren't two businesses exactly alike. Therefore, the same cookie-cutter solution cannot be applied to all businesses equally. iNECTA's ERP specialists are experts in sizing up your business and tailoring the solution to fit perfectly with your business's functional needs.
Built FOR the Food Industry BY the Food Industry
As you might already expect, the iNECTA Food solution is designed specifically for the food sector. This means we have accumulated years of experience dealing with food manufacturers, processors, packers, shippers, and traders and learned what makes them tick. Beyond that, we learned what impacted their businesses negatively and how to remedy it with an operational tool capable of streamlining whatever process is causing the persistent pain point. We know food better than most, and our solutions capabilities vastly outshine any other food ERP on the market. There is a common trend within the industry that leans strongly on the side of food manufacturers solely. While our solution does indeed provide valuable services for food manufacturers, that is just the tip of the iceberg. Unlike so many other ERP solutions, our food software can reach industries that require much more than just the typical food manufacturing tools and capabilities. For example, we offer specialized versions of our ERP solution specifically geared towards Seafood Catchers and Traders, as well as Produce Growers and Packers and Shippers to just name a few.
What Do You Lack?
What is your business sorely lacking? Think in terms of functionality, what tools or features is your business lacking in your current ERP or accounting software? Maybe you're a Food Manufacturer and you're lacking a proper Recipe Configurator that can ensure the perfect amount of ingredients in every unit of product, and reorder ingredients automatically when inventory is running low. Maybe you're a Packer or Shipper and your route management is inadequate—you might benefit from a premium Transportation Management feature that handles your business's transportation logistics with the utmost efficiency and accuracy.
Ease of Use
Finding a solution that is seamless and easy to use. This one might seem obvious, but you wouldn't believe how many prospective customers come to us with tales of woe regarding how difficult it is to navigate their current accounting software. It is often a daunting prospect, having to train an entire staff on how to use an automatically generated ERP system, and leveraging that system to run as intended is always easier said than done. Thankfully with iNECTA Food, our system runs on Microsoft Dynamics, which is probably already found in some aspect of your business albeit Microsoft Office, Word, or Excel. Having the familiarity with Microsoft products will no doubt offer an advantage, but we're confident that our solution is so easy to use that you and your workforce will be navigating the solution seamlessly in no time, regardless of prior familiarity with Microsoft.
24/7 Customer Support is a MUST
Everyone knows that a SaaS platform is measured by its ability to accommodate its customers. To that end, iNECTA Food has established a 24/7/365 global customer support team staffed by highly experienced ERP specialists and consultants who are capable of fielding and addressing all questions or complications that may arise. With a multi-continental reach, iNECTA is ready and willing to answer your call at any given time to aid you through any hiccups or confusion you may come across. iNECTA's stellar service doesn't end after the solution is implemented. To ensure success for our customers, we work tirelessly to build a strong rapport with companies and are committed to offering a helping hand long after implementation.
Making Your Decision
We know that selecting an ERP for your food business may seem like a stressful and drawn-out process, but we cannot stress enough how important it is for COOs and CFOs to do their due diligence in deciding what's best for their business. Too many times we have come across customers who have revealed to us their horror stories about how their previous operating systems were hopelessly mismatched. That's because most small to medium-sized businesses require flexibility and customization to leverage an ERP solution efficiently.
To learn more about iNECTA's Food ERP offerings, please visit www.inecta.com/food-erp.