We've talked a lot recently about the idea of Food ERP on various blogs and white-papers lately, but do we truly understand what it is and why it is so critical? So often, small and medium size food businesses think about the prospect of integrating an ERP solution but lack the information necessary to actually pull the trigger on seeking one.
This fundamental lack of understanding can be categorized into two schools of thought. The first of which is the belief that food companies are capable of handling daily processes via manual human interaction to the satisfaction of company executives. The second school of thought is the confusion of what an ERP is and what it is designed to do for a business. For food companies in particular, there are a lot of factors that contribute to the success or failure of a business. Everything from recipe management, warehousing, refrigeration, accounting, security, traceability, and logistics are all handled and recorded manually by individuals before an ERP system is implemented. This allows for a considerable margin for human error, as is our nature—imperfection.
Before the technology was invented, we accepted the norm of expecting a certain margin for human error related to virtually every operation involved in running a food manufacturing, processing or trader business. This apathy and acceptance for human error has plagued the food industry for decades, with the ultimate price being putting the safety of consumers at risk with shoddy or nearly non-existent traceability. Food ERP is designed to mitigate this risk, and other organizational risks that were formerly expected and allotted for.
What is ERP exactly? It's an acronym that stands for Enterprise Resource Planning/Management. That's the entire name of the game: Resourcing. Why is that important? The importance of efficiently allocating your resources as a business cannot be overstated. How well you are able to navigate the resources made available to your business is crucial for success. The allocation of valuable resources is the precise luxury that a successful ERP implementation affords Food businesses. Being able to reserve precious resources that would have otherwise been spent on a now fully automated process. The benefits of resource reallocation can be examined across every department that makes up your food business. Whether it's packaging and labeling, storage, shipping or item retrieval, ERP has the ability to streamline it all, saving money, but ultimately saving time and manpower.
Food companies have implemented streamlining practices and resource management tools for decades but lacked the technology we possess today to truly realize their aspirations. The system that preceded modern day ERP was known as the economic order quantity (EOQ) model, a paper-based scheduling system. This was replaced by material resource planning (MRP) tools developed in the late 1960s which eventually became manufacturing resource planning (MRP II) tools. We've come a long way since then, and food companies in particular have benefitted from the tremendous strides we've made in ERP technology. As the years passed, food companies began to understand the importance of managing their resources efficiently, not only to ensure the quality of their product, but to also ensure the safety of their consumers. With the adoption of a fantastic food ERP solution like INECTA Food, food companies hit the ground running, dually saving money on manual laborers and optimizing multiple processes in one fell swoop.
The evidence of successful ERP implementations is apparent, with food companies within the U.S. and around the globe documenting their success. This European-based company "Company Czech Republic" took note of the drastic increase to their revenue streams spanning from 2013 to 2014. The data shows a clear incline in percentage points as the result of an ERP integration.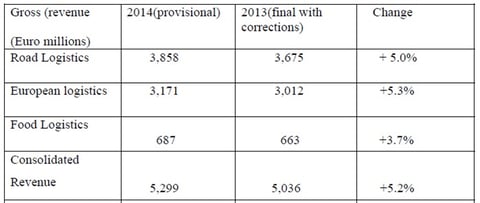 (Courtesy of the Ministry of Education, Youth and Sports of CR with title "Economic and social development in private and public sector" at the Faculty of Economics and Administration, UPCE.)
The process of implementing an ERP system is often where hang-ups occur. So many food companies are flummoxed by the mere idea of implementing state of the art ERP that they often feel helpless in getting it off the ground. This is often the norm, but some businesses have done the hard work for you by creating the best way to properly implement an ERP solution. The process for implementation is broken down in several phases. The first phase is usually the Planning phase. This phase is essential for drafting the project plan. Next is development. The Development phase's purpose is to prepare the ERP system for going live. Specialists prepare the system environment for data migration and customization. Next, Testing and Deployment. This phase is very important to check if the system's functionality is in an alignment with the outlined requirements of the projects. Lastly, Support and Maintenance is designed to follow up on the ERP system once it has been implemented successfully.
Food companies have a clear-cut path to success with a successful implementation of innovation ERP technology. If implemented correctly, as shown in the model above, food ERP can do wonders for a business. Regardless of whether your business needs an organizational boost regarding warehousing or heightened logistics efficiency, food ERP can and will pay dividends both in the short-term and the long-term.
Our customers are prime examples of the success that can be achieved as a result of successful food ERP implementation. Whether you're a manufacturer, trader, warehouser or process—food ERP can take your business and your brand to new heights. INECTA Food is powered by the most cutting-edge technology on the market provided by Microsoft. Our food software offerings are built on top of Microsoft Dynamics 365 Business Central, the latest and great ERP software succeeding Microsoft Navision 2018. To speak to a representative to discuss how food ERP can elevate your food business, contact sales@inecta.com.