It's about that time to start thinking about upgrading your ERP system. Not only because you are risking falling behind in a potential increase in output and productivity, but also because Microsoft is offering one peach of a deal. Keeping upgrading costs down is always the goal of any savvy CFO, and they would be hard-pressed not to take this offer into serious consideration. To avoid an even more costly upgrading process, Microsoft is imploring companies to upgrade now until September 1, 2020, to save big on Microsoft Dynamics 365 Business Central. After this timeframe, companies will be forced to upgrade to BC15 or above, or companies will have to stand idle until your system is eventually obsolete. If this happens, you can guarantee that upgrading your solution will be significantly more expensive. There are a couple of reasons for this. One is when BC17 is released, Microsoft N-2 License Policy will restrict you from purchasing BC14. The other reason this will be a costly endeavor if delayed is BC14 is the last version with C/AL.
You need to understand what is available and what exactly is being offered during this strange and dynamic period for ERP technology. I would suggest going straight to the source by checking out Microsoft's Software Lifecycle Policy and Dynamics 365 Business Central On-Prem Updates by clicking on this link.
Also, take a look at this chart to see how B14 stacks up in terms of C/ALability and ALability: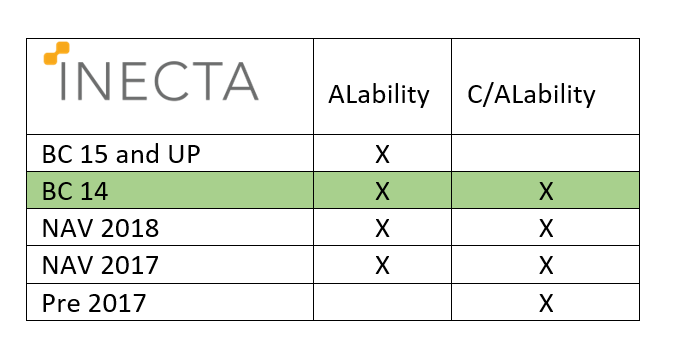 As you can clearly see, once you move on to BC15 and beyond, C/ALability will no longer be available. However, one of the best things about upgrading to BC14 is that you can merge your C/AL like always. But now, you can also refactor your leisure for an additional 3 more years while simultaneously getting cumulative upgrades from Microsoft. You might be wondering "well, why is that so important?" The reason is that if you wait and can only go to BC15 and pure AL, your next upgrade will require all of your ISV code to be in AL and all of your C/AL refactored to AL using Microsoft Events.
You are putting your business in a bit of a pickle if you choose to pursue it after the aforementioned deadline. Operating too long on outdated software will make things all the more difficult when you are forced into upgrading after the ideal timeframe. You are risking your company precious time, money, and general disruptions by delaying the inevitable. Not to mention the issues you could face with code that may not be applicable on BC15 once it is integrated.
The great thing about getting ahead of things on the upgrade front by switching now to BC14 is that it's that much different than NAV 2016 and above. BC14 allows .NET, C/AL as well as AL. Be a better friend to your business, be proactive about your ERP system and you will thank yourself down the road.
If you're still not too convinced, take a look at this video detailing the benefits of Business Central from Microsoft.
The advantages are obvious. The early bird gets the worm, but also spares itself from the hassle of playing catch-up using obsolete software!